"Wine pairing of sensations" in the restaurant of Hotel-Hostal Sport
"Wine pairing of sensations" in the restaurant of Hotel-Hostal Sport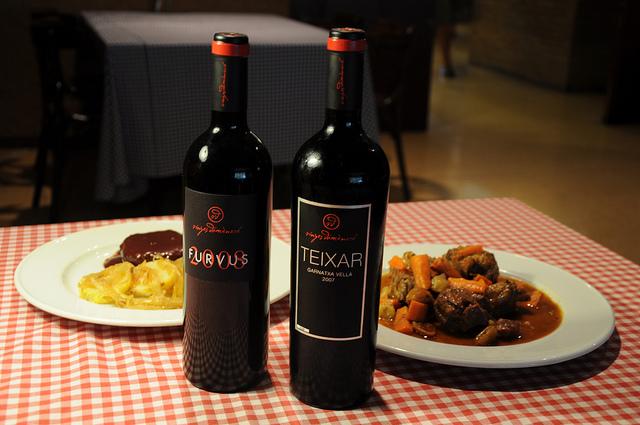 Vinyes Domenèch and Hotel-Hostal Sport offer the menu "Wine pairing of sensations" to promote food and wine in Priorat
In the restaurant of the Hotel-Hostal Sport, together with Vinyes Domènech winery, we promote the menu "Wine pairing of sensations" that unites traditional dishes of Priorat with wines from this winery of DO Montsant, very interesting and unique, as the esteemed Teixar , made from old vines of hairy Grenache.
The menu can be enjoyed in our restaurant and consists of 4 dishes and a few desserts combined with four wines from the winery Vinyes Domènech, specially selected to flirt with every culinary proposal. The initiative aims to promote food and wine culture, providing knowledge about the Priorat to our costumers.
The menu, created by the sommelier of Vinyes Domenech, Xavi Nolla, and the director of Hotel-Hostal Sport, Marta Domènech, along with the team of cooks who prepare menu in the restaurant, consists of the following dishes and wines:
Carpaccio of pork legs with pistachios
Rita (white Grenache, Macabeo)
Hut salad with berries and hazelnuts or hazelnut vinaigrette
Bancal (Grenache, Syrah, Cabernet sauvignon)
Hamburger wine from Priorat
Furvus (hairy Grenache and Merlot)
Tiramisu with hints of coffee
The menu, which is priced at 45 euros, enriches the historic restaurant of Hotel Sport which offering food and wine since 1923. In our establishment we have always paid special attention to the wines of the DO Montsant and DOQ Priorat, as evidenced by our wine list with over 200 references and awarded the award Cartaví 201
2. The focus on pairing menu confirms our interest in continuing to innovate in the kitchen.
Customers who want to also have the ability to enjoy a "Wine pairing of sensations" guided, commented and served by the Sommelier. This option will incur a charge on the menu price and is offered whenever there is a minimum group of people.
Come and enjoy our wine pairing menu and live an experience unique in the heart of Priorat
---
Contact us and book now your menú!