Teixar 2010 of the cellar Vinyes Domenech in the restaurant Hostal Sport of Priorat
Teixar 2010 of the cellar Vinyes Domenech in the restaurant Hostal Sport of Priorat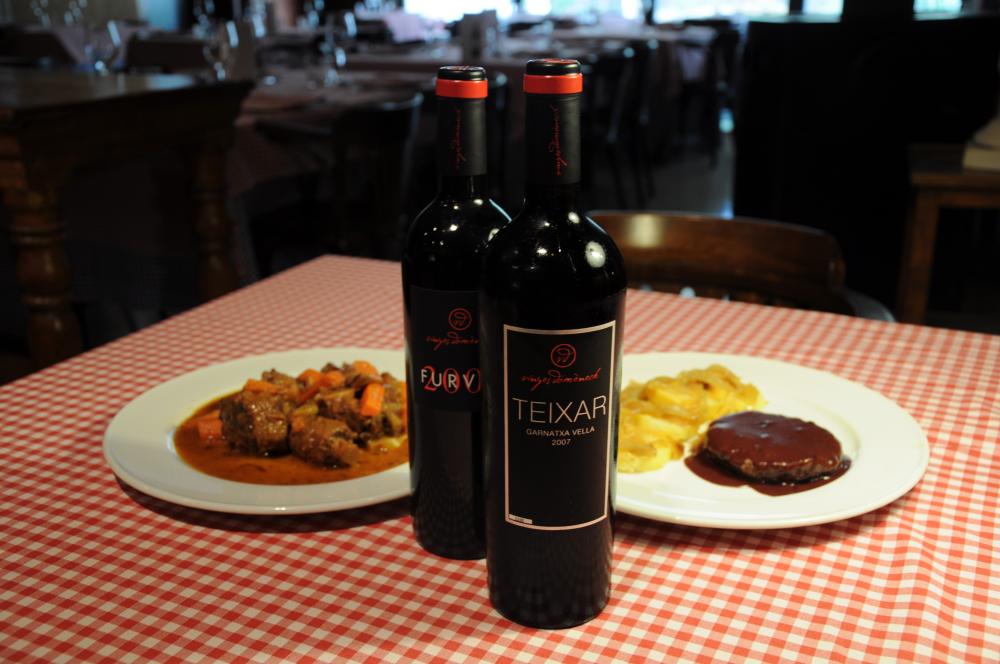 In the restaurant of the Hotel Hostal Sport Falset we offer a pairing menu with wine Teixar 2010, 1st wine estate Montsant, 4th of Catalonia
In the wine list of the restaurant of Hotel Hostal Sport of Priorat we have Teixar 2010, a unique wine that comes from a plot of 2ha of very old vines of Grenache hairy, surrounded by forest with very stony and poor soils that give complexity, expected elegance and depth in a great wine.
In the restaurant, we offer a singular pairing menu to combine the Priorat cuisine with wines of the winery Vinyes Domenech.
Wine features Teixar 2010 (DO Montsant):
Soil: Clay-calcareous
Variety: Grenache hairy over 70 years planted in terraces with 15º slope.
Preparation: spontaneous yeasts and vinification of each patch separately in barrels of 500 liters. Aged for 14 months in French oak barrels of natural drying minimum 30 months.
Taste: Velvety, elegant and balanced, mature stands, balsamic, red fruit and minerality menthol. It is extremely complex, persistent, long finish.
Pairing Menu with Vinyes Domènech sensations in the Sport restaurant in Priorat wine region:
Pork feet carpaccio with pistachios
Rita (White Grenache, Macabeo)
 
Arugula salad and red fruits and hazelnut or hazelnut vinaigrette
Bancal (Grenache, Syrah, Cabernet Sauvignon)
 
Hamburger Priorat wine
Furvus (hairy Grenache and Merlot)
 
Oxtail with fennel
Teixar (hairy Grenache)
 
Tiramisu with coffee notes
Teixar (hairy Grenache)
---
If you want to enjoy this pairing, make the reservation on +34 977 83 00 78 or send an email to info@hotelspriorat.com.
Come to live an authentic food and wine experience!