Sweet wines tasting and chocolate in the Priorat wine region
Sweet wines tasting and chocolate in the Priorat wine region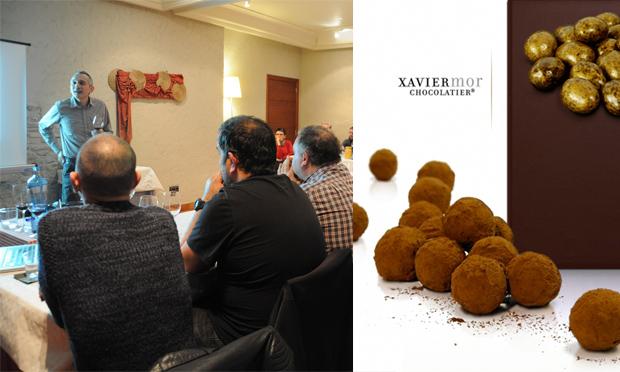 Friday, 20 February, 2015
In the Hotel Hostal Sport of Priorat, Catalonia, we start a new cycle of wine tastings to promote the wine tourism in the Priorat region.
With the label and slogan #TastaSport, in the charmin Hotel Hostal Sport of Priorat, Catalonia, we implement a program of unique wine tastings to continue promoting the Priorat wine tourism and wine culture among attendees. Thus, we intend to promote the discovery of new references and types of wines in Catalonia but also in other regions.
The first session will be directed by the winemaker of Orto Vins winery, Joan Asens, next March 14th. The tasting is a trip by different producing areas of sweet wines such as DO Montsant and DO Empordà but also known regions of Sauternes (Bordeaux), Roussillon in southern France, and Jerez, the Spanish State.  
The wine tasting will be accompanied by a pairing of different chocolate truffles selected by Xavier Mor Chocolatier, a company dedicated to the production of small pieces of chocolate that meet healthy nutrient profiles.  
Sweet wines to be tasted: 
Sweet White Orto Vins 
Sauternes, 2012, Caprice Bastor Lampantagne. 
Rousillon, 2010, Muscat de Rivesaltes, Cazes Winery.
Empordà, Sweet Solera, Bodega Mas Estela 
Montsant, Pansal of Calas, Celler de Capçanes 
Jerez, Pedro Ximenez Emilio Hidalgo Bodega 
Pairing with chocolate truffles following: 
White Truffle + hazel 
Black Truffle + hazel 
White Truffle + pistachios 
black Chocolate Venezuela (73%) 
black Chocolate Vietnam (80%) 
Milk chocolate Venezuela (36%)  
The cost of the next wine tasting is 15 euros per person and must arrange payment the day of the tasting, before entering. For reservations, confirm previous attendance by email to comunicacio@hotelspriorat.com. Everyone who is enrolled in the newsletter of the Hotel receive scoop the contents of the unique tastings that will be programmed on.  
From the Hotel Hostal Sport we continue to bring the culture of wine to wine lovers, curious and wine passionates. From the rural hotel and restaurant we will continue promoting wine tourism activities throughout 2015 to enjoy ourselves together learning about wine and food.  
If you want to know how the tastings are organized in the Hotel Hostal Sport, we encourage you to browse the VIDEOS we've done throughout 2014.