Stop and stay for cyclists
Stop and stay for cyclists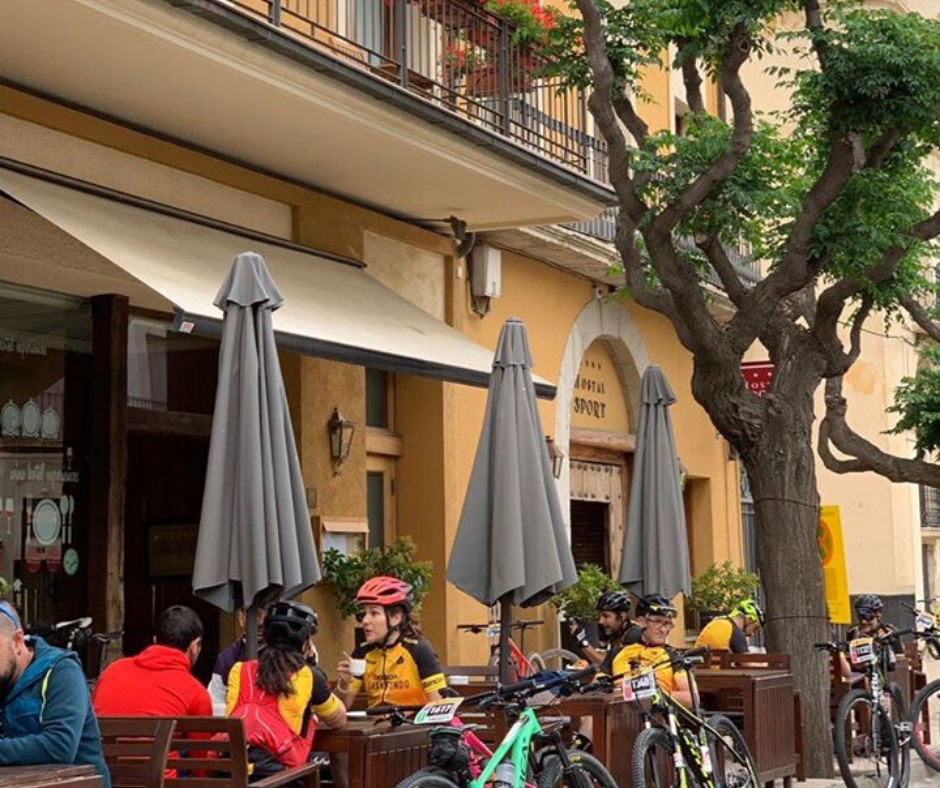 Monday, 13 July, 2020 - 11:00
BTT? Road? You don't have to choose! In the Priorat you have everything and at the Hostal Sport too!
Narrow and winding roads, scandalous curves, quiet paths, dizzying paths, vineyards and wineries on both sides ... The Priorat is a landscape spectacle for anyone who wants to cycle. With more or less distance, with more or less unevenness, the common denominator of all the cycling routes you can do in the Priorat is the spectacular landscape: the Serra de Montsant and the Serra de Llaberia; the paths between forests, vineyards and olive groves; the little-traveled roads and highways that meander and unite towns such as Escaladei, Gratallops, Porrera, Falset, Capçanes, Bellmunt…
BTT? Road? Don't make a choice! In the Priorat you will find everything. Choose HERE which type of route, unnevennes and distance you prefer and do the one that fits you best!
Whether you are a biker from head to toe, or if you cycle from time to time, in the Priorat you will find quiet roads and challenging routes to cycle between picturesque villages and vineyards and also strong emotions with demanding stretches to overcome. The Priorat region offers many combinations of local roads that will allow you to do routes from 40km to 150km or more.
You can start the day out with a good breakfast at the Hostal Sport Restaurant, finish it with a glass of wine in our terrace or garden (invited by us) or stay all weekend at our hotel, because we will prepare you a special dinner rich in carbohydrates, we will wash your jersey and store your super bike under lock and key!
If you finish your cycling route at the Hostal Sport, we will invite you to a complimentary glass of wine!
WE ARE A BIKE FRIENDLY HOTEL AND RESTAURANT. Would you like to know why? 
Because we are just about to get our HOTEL BIKE certificate from the ACT (Catalan Tourism Agency)

If you want, the night before, we will prepare you a dinner rich in carbohydrates

In our bedrooms you can get a wonderful night's sleep

You can start the day out with a filling buffet breakfast

If you finish the route at our hotel, we will invite you to a glass of wine!

Because soon we will have a small workshop with tools and spare parts for your bike

We have received our certificate as an Information Point of the Montsant Natural Park and the Serra de Llaberia

You can return to the restaurant, even if it's late, for a well-deserved lunch of Catalan cuisine. We adapt to cycling schedules! :-)

We have our own parking to store and lock bicycles in complete safety

We offer express jersey washing

We will prepare a sandwich and fruit for you to take along the route

We offer luggage transportation service

We have private rooms for team meetings where you can prepare for the next day
3 CYCLING TOURS FOR 3 TYPES OF CYCLISTS
Extreme Priorat - 221 meters of elevation gain. Spectacular 108 km route that passes by some of the hardest ascents in the Priorat region.
Wine pedals, DOQ Priorat landscapes. Beautiful 51 km route that runs through the landscapes of the DOQ Priorat with a cumulative drop of 1000 meters. The terrain is a leg breaker despite only presenting two 3rd category mountain difficulties at the end of the tour.
Falset - Marçà - La Torre- Pradell - Porrera. 33km route through the most charming tows of the region.
This summer, come and spend a few days discovering the Priorat by bike. Always, of course, with a pit stop at the Hostal Sport in Falset. A classic for cyclists!​​​​​​​